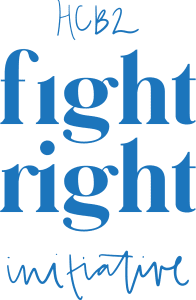 HCB2's Fight Right initiative includes support and education for community members to Nourish.Move.Breathe. We eat, move, and breathe every day to remain not just well, but alive! So, how are you doing these activities? Do you breathe shallow or take in large, diaphragmatic breaths? Do you move more than you sit throughout the day? Do you eat clean or reach for quick, processed foods. We offer services and information to encourage mindfulness as we "do" life each day.
The immune system is not isolated from one's daily experience.  Research shows that the human experience can either support of disrupt physical wellness. Emotions, such as stress, create electrical, chemical, and hormonal charges within the nervous system.  Chronic stress activates inflammation, disrupts the balance of the gut flora leading to GI issues and a disturbed immune system, and causes a continual cortisol drip wrecking havoc on the bodily systems, including the immune system.  In addition, physical and emotional stress can reduce oxygen supplied to our cells which challenges the cellular system to exchange oxygen which can create an acidic bodily environment.  Cancer thrives in an acidic and inflamed bodily environment. BREATHE DEEP and EXHALE – an easy first step to internal and external wellness.
Free Online Resources
Calm meditations can be found here.
Our friends Cara Marinucci and Erin Johnson at Integrative Transformations have created wonderful podcasts to help create a state of mindfulness and overall sense of well being.  Check out their podcasts! https://integrativetransformations.com/podcasts
Easy Ear Acupressure to reduce stress and anxiety while restoring balance to the body. Check out the NADA protocol here.
Find stress reduction information by listening to HCB2's Fight Right podcasts which discuss the power of the breath by advisory council member Melissa T. Young.  Another great option is to listen to Dawn Quicke, a HCB2 partner, discuss an enlightening topic about the power of words in our every day life.
Stress Reduction Workshops
Acupuncture & Breathing Meditation
Join our partners Dr. Jamie McLaughlin and Melissa Terese Young for various opportunities to learn more about how you can release excess stress and find your own sense of calm through Breath Work and Acupuncture. Keep an eye on our events calendar to find out about the stress reduction sessions.  Contact info@HCB2.org for more information.
Our thanks to Dr. Jamie McLaughlin and Sonja Smith for being so giving of their time and experience to help us support cancer patients, survivors and community members since 2016!  We welcome our new partner, Melissa Terese Young, Breath Work professional!