HCB2's Fight Right Podcast
We are Hitting Cancer Below the Belt and we are hitting cancer hard with quality information that helps you to create a bodily environment where cancer is challenged to survive.  Each podcast offers education and insight to give listeners the power to make lifestyle changes that may increase one's ability to prevent or recover from a cancer diagnosis. Simple and effective strategies are offered by functional medicine practitioners and other experts who use a holistic approach to help others "Fight Right".  #cancerhatesthat 
You can listen below right here on the HCB2 website or if you like to listen on your favorite streaming apps you can always find us on Spotify or on iTunes. Please don't forget to subscribe to get notifications for new episodes right on your phone!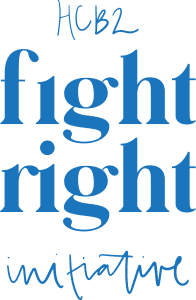 Episode 15 – It's never too late and never too EARLY to begin screening. Dr. Bierle discusses family conversations that could save your life.

Has your Mom and Dad been screened for colorectal cancer? Did they have polyps removed? Do you have cancer in your family history? What age was the family cancer diagnosed? If you have not had this conversation with family members you may want to listen to our short podcast because we discuss one of the largest barriers to screening – "I Did Not Know Because I Did Not Ask". Dr. Bierle joins HCB2 to help spark the exact discussions that need to happen among family members to help people become proactive with screening. Thank you, Dr. Bierle!
Episode 14 – A Colonoscopy Leads to a Rebirth for One African American Male

A Colonoscopy Leads to a Rebirth for One African American Male
Meet Jason. A man who works hard for his family and community and who was on a roll, loving his life. Then it was time for Jason's routine colonoscopy. Due to incentives from his employer and strong encouragement from his loving wife, Jason went ahead and reluctantly scheduled his colonoscopy. The procedure saved his life. Listen to Jason's powerful experience which debunks misconceptions about screening and offers empowering messages about his lifestyle changes. Now Jason is on a mission to help the Black community live more healthy and HCB2 is honored to be one of his megaphones.
Episode 13 – Are we throwing gasoline on the fire? Discussing chronic usage of common medications

We welcome back Christian Jenski, MD, Board Certified Functional Medicine Specialist, to discuss the common medications consumed by the American public and the potential harmful results if chronically prescribed without medical monitoring. Dr. Jenski offers vast amounts of information about Statins, Metformin, Steroids, and PPI's or over the counter acid reducers, and the possible damage with chronic use. Dr. Jenski also discusses the nutrients and supplements necessary to combat side effects and the medical tests and labs to request from you medical provider to help monitor the body's response. This is only Part I of an ongoing conversation!
Episode 12 – "But, I'm too young." Discussing early onset of colorectal cancer

Meet Tressa Breindel, LAC, MSOM, and John Galloway, colorectal cancer survivor. Tressa and John are two thriving young people with histories of GI issues which led to a colorectal cancer scare. Listen to very practical information which includes their experience and insight for young people. Colorectal cancer is NOT an old man's disease and GI issues during one's younger years can indicate potential issues that must be discussed with a medical provider. Tressa and John help listeners understand IBD, ileostomy, colostomy, and GI issues to raise the level of confidence to become an advocate for one's gut and overall health.
Episode 11 – Dr. Vorenberg and Dr. Gentry Talk Colon and Rectal Health!

HCB2 is privileged to have of Andrew J. Vorenberg, MD, FACS and Cary L. Gentry, MD, FACS, FASCRS of Colon & Rectal Specialists to join their Fight Right podcast. The doctors discussed colorectal (colon and rectal) cancer screening and helped to explain and decipher the various screening options for patients. If you have a family history of polyps, should screening begin earlier? Has the age for routine screening been lowered to age 45? What type of patient is eligible for a noninvasive, in-home screening option? These questions and more are answered during the 30 minute conversation. Check it out!
Episode 10 – Women's Breast Health: Mammography and Cancer Treatment

Two doctors from Sarah Cannon Cancer Institute are HCB2's guests to record the Fight Right podcast, "Women's Breast Health: Mammography and Cancer Treatment". Dr. Ruth Felsen, Breast Surgeon at Johnston-Willis Hospital and Dr. Ryan Gabriel at Henrico Doctors' Hospital share the latest information about screening for breast cancer and the treatment procedures currently available. If we are going to Fight Right, we must screen early and annually!
Episode 09 – Beauty Should Not Harm You

What we put on our bodies is just as important as what we put in. Listen to our great discussion which will benefit every man, woman, and child. We typically absorb over 100 chemicals each day through our skin due to the products we use. Some of these ingredients have been found to circulate within the bodily environment and can cause harm. So what to do? Join the conversation to learn about what to look for and simple steps to purchase cleaner products. Special insights are given to cancer patients and survivors whose skin has suffered due to cancer therapies.
Episode 08 – Vitamins, Minerals, and Metals. Oh My!

Dr. Christian Jenski returns to the Fight Right podcast to offer incredible details and insight about vitamin D, magnesium, and iron. These are three nutrients commonly supplemented due to their vast and various roles each play in the bodily environment. Dr. Jenski explains how the vitamin, mineral and metal impacts the body, influences growth and repair, protects, and provides a role in energy production. The importance of screening to reveal levels to work to achieve a patient's optimal level is also clearly addressed. Dr. Jenski leaves the listener with an understanding about symptoms of deficiency and if supplementation is encouraged. He also discusses the caution of excess. Dr. Jenski sets the record straight. A fabulous short podcast with a lot of information!
Episode 07 – Lifestyle as Medicine

Join Christian Jenski, MD, a board certified Functional Medicine Specialists, as he discusses the power of lifestyle on the switch of turning on and turning off disease. Our bodies have the ability to protect, repair, eliminate, create, and communicate across bodily systems in an effort to thrive. Our lifestyle plays a large role of flipping on a strong bodily defense system. Dr. Jenski explains why medicine should not include a one size fits all approach. Dr. Jenski shares his approach of reviewing all symptoms as messages regarding the actual root cause of dysfunction and disease. Treatment is an investigative process and the partnership between the patient and doctor is crucial.  You can find Dr. Jenski in Midlothian, Virginia and https://richmondfunctionalmedicine.com/
Episode 06 – The Emotional Body

Do you ever experience physical pain but are left without a diagnosis? Do you experience repetitive anxiety, frustration, or anger and your not sure how to manage these emotions?  Listen to a fascinating conversation with Dr. Jamie McLaughlin as he explains how emotions can cause physical dysfunction.  Most importantly learn how past trauma maybe the root cause of emotions which are causing physical symptoms.  Dr. McLauglin explains energy medicine and the effective strategies that can be used to release stagnating energy allowing true healing to begin.  Our body has its own wisdom, energy, along with the immune system which provides the ability to restore itself and heal.  The practice of bringing energy medicine along side western medicine provides the holistic approach necessary for treating disease and dysfunction.
Episode 05 – What are U Eating v. What's Eating U
Guest: Dr. Jamie McLaughlin – Nutrition is not the only influence on the gut microbiome. Stress of all kinds can cause a gut microbiome imbalance leading to chronic digestive problems and challenges throughout the body. Effects of emotional, mental, physical, and environment stress can interfere with the integrity of the gut microbiome. Listen to a discussion about the importance of the gut, its vital influence on the total body, and the easy and effective ways to protect the gut microbiome from the various stress we face every day.
Episode 04 – Exercise and Cancer

Andrea Leonard, founder of Cancer Exercise Training Institute (CETI), discusses the role of exercise during cancer treatment. Outcomes are better for patients when they continue to move during their course of treatment. Andrea explains how trainers, with the Cancer Exercise Specialist certification, assess clients with a cancer diagnosis and how functional fitness plans are uniquely created. Andrea also provides information about lymphedema, the risks and symptoms of lymphedema, and simple exercises that can help reduce the risk of developing lymphedema. An inspiring conversation about helping cancer patients through their treatment and combating many of the challenging side effects through exercise.
Episode 03 – Gut Health During Cancer Treatment

Tressa Breindel, LAc, MOSM, owner of InHealthRVA a functional medicine practice in Richmond, VA, discusses the exciting and empowering approach of treating underlying causes of health issues and not simply medicating or managing symptoms. The practice uniquely works with patience to find the root cause of dysfunction and the treatments support the body's ability to heal and restore balance. Tressa highlights the role of nutrition and the gut microbiome giving specific insights for cancer patients. This short Fight Right podcast is full of critical information.
Episode 02 – What are you thinking? The Benefits of Thinking on Purpose.

The benefits of "thinking on purpose" is shared by neuro-strategist and mindset coach Dawn Quicke. Dawn shares information and practical strategies which empower the listener to take notice of their words, assumptions, and expectations. Choosing how we respond to feelings brings one into a natural calm and can protect one from chronic stress and anxiety. Dawn has used the power of her thoughts and words to reverse disease and cross the finish line of Ironman Triathlon multiple times.  She is globally trained in Neuro-Linguistics, Hypnotherapy and Yoga as well as a Board of Nursing Certified Massage Therapist. For more info go to www.dawnquicke.com.  A gentle mind and a gentle spirit creates an internal bodily environment where cancer is challenged to survive.
Episode 01 – Free Tool to Reduce Stress.

The one thing you can do for your health and it's totally FREE!   Join HCB2's guest speaker Melissa Terese Young, Breathwork facilitator in Richmond, Virginia, as she explains the abundant benefits of conscious breathing.  Using the breath to calm the body and to bring the body more energy.  We need to breathe to survive, but are you getting your daily dose of oxygen to help you thrive?  Great reminders along with new information in this short 17 minute podcast!