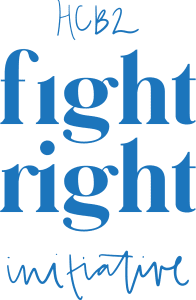 HCB2's Fight Right initiative includes support and education for community members to Nourish.Move.Breathe. We eat, move, and breathe every day to remain not just well, but alive! So, how are you doing these activities? Do you breathe shallow or take in large, diaphragmatic breaths? Do you move more than you sit throughout the day? Do you eat clean or reach for quick, processed foods. We offer services and information to encourage mindfulness as we "do" life each day
Nutrition has a direct impact on our health and the ability of our bodies to fight disease. HCB2 wants to help community members engage in behaviors conducive to optimal health: the creation of a bodily environment where it is difficult for cancer to thrive.  Thanks to Dr. Marlisa Hurt, board member and Chair of the Education committee, and advisory council members Dr. Christian Jenski, Dr. Jamie McLaughlin, and Tressa Breindel, HCB2 is able to offer current nutritional education based on research and studies from across the globe.
Online Nutrition Information: Podcasts, Blogs, Social Media
HCB2 Fight Podcasts help you to create a bodily environment where cancer is challenged to survive.  Many of the recordings feature guests who discuss nutrition as medicine and the first line of defense in preventing disease and aiding in recovery. Check out the Fight Right podcasts and keep an eye on our events calendar to find out about upcoming workshops.
To read the latest blog posts click here,  and consider checking out the Fight Right with HCB2 Facebook page for continued support here.
Interested in following an online group? Nutrition Coalition – https://www.nutritioncoalition.us/science-not-settled
Grocery List and Healing Basket
Feel free to download HCB2's Fight Right Anti-Inflammatory Grocery List. Providing information about foods which help to bring oxygen into the body and decrease inflammation is critical to preventing cancer.  If you are a cancer patient, cancer survivor, or know someone who has been facing this challenge, please think about requesting a Healing Belly Basket.  This basket filled with nutrient dense foods is a free service for those part of the cancer community.
Research